My two week summer vacation is coming up soon and I am already counting the sleeps. I plan on this being a real vacation: no e-mail and no work whatsoever. I may even disable e-mail from my phone – anybody that I want to hear from on my vacation has my number. What I am especially excited about (besides being home, seeing my parents, and eating to my heart's content!) is catching up on all the good books I've been buying courtesy of the closing down sale at our local Indigo. Here are some of the items on my summer reading list, if you have any suggestions please share! (click on the picture of each book to go to the Amazon page)
1) The Amazing Adventures of Kavalier & Clay by Michael Chabon
I heard about this one in an interview with someone I respect who called it their favourite book. I can't believe that I hadn't heard of it before since it is so well-reviewed and successful.
Here is the synopsis from Amazon: A "towering, swash-buckling thrill of a book" (Newsweek), hailed as Chabon's "magnum opus" (The New York Review of Books), The Amazing Adventures of Kavalier & Clay is a triumph of originality, imagination, and storytelling, an exuberant, irresistible novel that begins in New York City in 1939. A young escape artist and budding magician named Joe Kavalier arrives on the doorstep of his cousin, Sammy Clay. While the long shadow of Hitler falls across Europe, America is happily in thrall to the Golden Age of comic books, and in a distant corner of Brooklyn, Sammy is looking for a way to cash in on the craze. He finds the ideal partner in the aloof, artistically gifted Joe, and together they embark on an adventure that takes them deep into the heart of Manhattan, and the heart of old-fashioned American ambition. From the shared fears, dreams, and desires of two teenage boys, they spin comic book tales of the heroic, fascist-fighting Escapist and the beautiful, mysterious Luna Moth, otherworldly mistress of the night. Climbing from the streets of Brooklyn to the top of the Empire State Building, Joe and Sammy carve out lives, and careers, as vivid as cyan and magenta ink. Spanning continents and eras, this superb book by one of America's finest writers remains one of the defining novels of our modern American age.
2) The Bling Ring: How a Gang of Fame-Obsessed Teens Ripped Off Hollywood and Shocked the World by Nancy Jo Sales
From the Pulitzer Prize winning book selection above to a book on a fascinating true story that caught everyone's attention. I haven't seen the movie yet (I can't wait!) but until I do, I know I will be enjoying this read.
Here is the synopsis from Amazon: The Bling Ring by Vanity Fair writer Nancy Jo Sales is an in-depth expose of a band of beautiful, privileged teenagers who were caught breaking into celebrity homes and stealing millions of dollars worth of valuables. With a list of victims that reads like a "Who's Who" of young Hollywood, including Lindsay Lohan, Orlando Bloom, Paris Hilton, and Rachel Bilson, The Bling Ring is the stuff of writers' imaginations—with one exception—it's a true story. The media asked: Why would a group of kids who already had designer clothes, money, cars, and status take such risks? Award-winning journalist Nancy Jo Sales found the answer: They did it because they could. And because it was easy. The Bling Ring: How a Gang of Fame-Obsessed Teens Ripped Off Hollywood and Shocked the World is a shocking look at the seedy world of the real young Hollywood.
3) Parade's End by Ford Madox Ford
Four books collected into one edition. I came to this one through an HBO miniseries of the book starring… well…I'll give you one guess!!! The first time I watched it it didn't have that big an effect on me but I decided to give it a second chance and that time I was hooked – it is incredibly well done. There are no good or bad characters, no "right" path, these are real people portrayed truthfully with their good points and flaws. I can't wait to read the book (which has been lauded as providing the best depiction of WWI) written in the 1920s and get the full story, not just the parts chosen by Hollywood.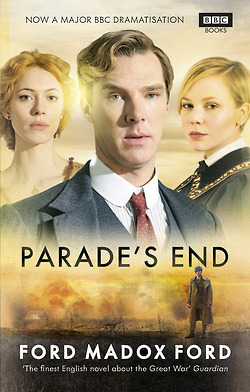 Here is the synopsis from Amazon: The Great War changes everything. In this epic tale, spanning over a decade, war turns the world of privileged, English aristocrat Christopher Tietjens upside down. It forces him to question everything he holds dear – social order, morality, marriage and loyalty. And it rocks the very foundations of English society. This is a powerful story about love, betrayal and disillusionment in a time of horror and confusion by one of Britain's finest novelists. This edition of the novel includes all four parts, originally published separately between 1924 and 1928.
I think these should keep me busy in the best possible way!
Wishing you the best of everything,
Champagne Mood